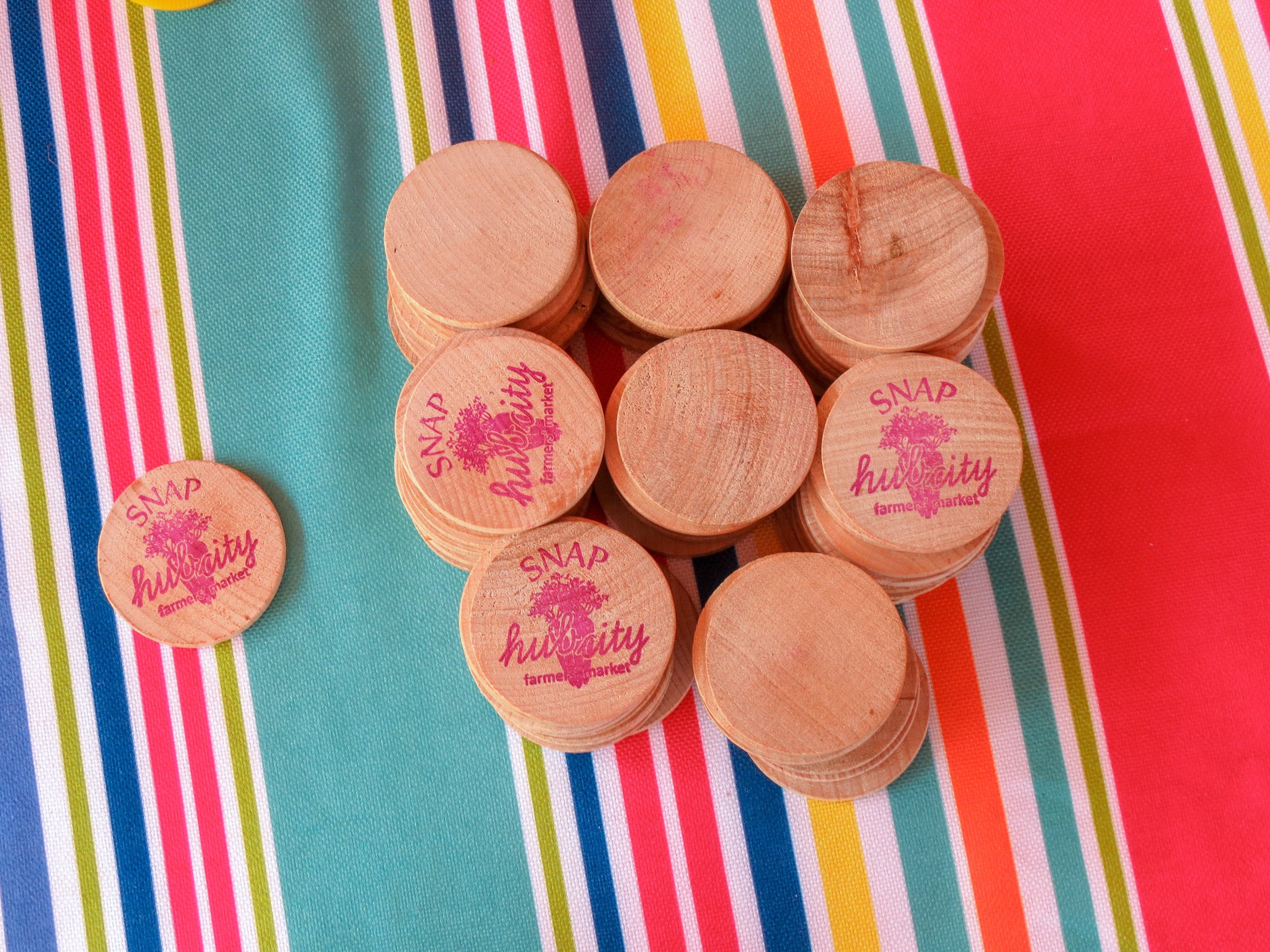 Transforming dollars and diets.
About SNAP
SNAP, the Supplemental Nutrition Assistance Program, is the program formerly known as "food stamps". It is a federal nutrition program that helps you stretch your food budget and buy healthy food.
SNAP provides financial support to in-need people with their food budget. Typically, many of the people on SNAP are supporting families, and many of them are working. When the old food stamp vouchers went away in 2002 in favor of a debit card, farmers markets across the country suddenly were out of the food stamp business. Consequently, the best avenue for healthy produce for in-need families closed. Even today, only a little more than 60% of farmers markets across the country accept SNAP.
In Spartanburg County, there are about 43,000 SNAP users, accounting for $61,000,000 a year in SNAP money. The average benefit breaks down to $1.31/person/meal. In 2013, direct farm and farmers' markets sales accounted for only $11,000 of the SNAP spent in Spartanburg. We recognize an economic and a public health need to connect farmers and SNAP users, and have worked relentlessly to expand the use of SNAP at our markets. To help increase SNAP use at our markets, we work with the United Way of the Piedmont for a "Double SNAP" program, and with the Department of Social Services for a "Healthy Bucks" program. Both of these programs greatly increase a SNAP family's food-buying power.

In 2017, HCFM's Double-SNAP program helped put $43,000 in healthy, local food on tables for low-income families. This $43,000 went directly to our local farmers and vendors, helping to build small businesses.
How do i get snap? how does it work?
Please check the USDA site for eligibility or find your local SNAP office to apply.
Find out if you're eligible for the Supplemental Nutrition Assistance Program (SNAP), formerly food stamps. Gigail Petty, our SNAP Outreach Coordinator, is available by appointment or at the Saturday Market and can help you find out if you qualify.
SNAP benefits are given to you each month on a plastic card called an EBT (electronic benefits transfer) card, which works like a debit card.
SNAP benefits can be used to purchase food at grocery stores, convenience stores, and some farmers' markets and co-op food programs.
How does FreshEBT fit in?
FreshEBT helps you check the balance on your EBT card without having to call the hotline or save receipts. However, since FreshEBT isn't part of the government, we can't help you apply through the app.
"The Double-SNAP program at the Market was a blessing that transformed my family's diet. At a time when we were only receiving $36/week for food from SNAP we were able to buy around 50% of our household's food at the Market including apples, cauliflower, bell peppers, tomatoes, zucchini, broccoli, corn, yellow squash, carrots, green beans, peaches, cucumbers, a loaf of bread, eggs, and sometimes ground pork sausage. Along with the healthy food, at the Hub City Farmers' Market I found a friendly social atmosphere with kind vendors and, unlike some of my experiences at grocery stores, fellow customers at the Market never treated me differently."
- Jessica Eichman
DOUBLE-SNAP
Double your dollars with snap-matching
Once signed up for the SNAP program (contact our SNAP outreach coordinator, Gigail Petty), you become eligible for HCFM's SNAP-Matching. This means that for every $1 you spend at the Farmers' market or Mobile market, you'll receive an additional $1. (Up to $40) Plus an addtional $10 to spend on fruits and vegetables if you put at least $5 on your EBT card. Take full advantage of the program and you can turn $40 into $90 at the market each week!
Money is in the form of tokens that do not expire.
Check your EBT balance instantly with FreshEBT!
FreshEBT helps you:
Check your food stamps balance

Find stores that accept EBT

Keep track of your spending
Quickly and discreetly check your food stamps and benefits balance at the grocery store or at home. Make healthier choices with the help of the app. Locate grocery stores, corner stores, and farmers' markets near you that participate in the SNAP benefits program and accept food stamps. And stay within budget! See an overview of where you spend your food stamps and view your history of EBT transactions, month by month.